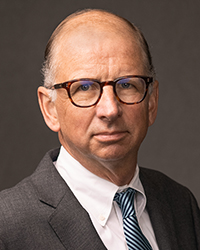 John L. North
Partner
Email: jln@hkw-law.com
Phone: 770-953-0995
John North has focused his practice for over thirty years on complex litigation matters including intellectual property litigation such as patent, trademark, copyright, trade secret, and unfair competition matters including Lanham Act claims. John also has experience in patent licensing, patent portfolio strategy, pre-litigation counseling and inter partes review practice. John has effectively litigated cases in courts across the United States; he has been involved in complex matters for clients located across the world, including in Australia, Belgium, Canada, England, Finland, Germany, Israel, Italy, Spain, Switzerland and Taiwan. He has served as lead counsel in over 100 intellectual property disputes.
Clients have recognized John for his client focus, efficiency and savvy strategy advice. John's recognitions include IAM Patent 1000 – The World's Leading Patent Practitioners (2012-2023); and AV Preeminent Rating and Judicial Award, Martindale-Hubbell (1999-2022, 2016-2022 (respectively)). The IAM Patent 1000 2019 listing stated that "North has been called upon to represent clients across the globe in sophisticated litigation over his 32-year career and is known for producing positive outcomes in the most challenging of cases."
John's clients run the gamut from billion dollar revenue corporations to organizations with modest revenues. He has considerable experience working both defense side and plaintiff side cases, offering traditional hourly billing as well as alternative fee approaches, including flat-fee, contingency and blended arrangements. Examples of these representations include representations of billion dollar communications companies, representation of one of the world's premier BIOS companies in one of the largest patent cases filed in 2014, working with a team of attorneys to recover settlements of over $200 million for an international media company, and trying a number of pharmaceutical cases where the market values ranged in the 100s of millions.
John has handled a broad range of technologies, including artificial intelligence, smart phone security, computer software and hardware, the Internet, telecommunications, chemicals, minerals, textiles, pharmaceuticals, paint, crown moulding, medical devices, healthcare information systems, electronic coupons, program guides, tire inflation systems, and various consumer and construction products.
John has served as a Special Master to the District Court in two patent cases. He also has served as an expert on patent misuse and attorneys' fees.
Prior to joining HKW, John was a partner at national firm, and co-founded and chaired the Intellectual Property Group at another national firm.
Practice Areas
Intellectual Property Litigation
Patent Infringement
Copyright Infringement
Trade Secret Violations
Trademark Rights
Unfair Competition
Antitrust
Additional Professional Activities
Special Master for claim constructions for two cases in Northern District of Georgia
Expert on patent misuse for case in Northern District of Texas (report and deposition)
Admissions
Georgia, 1987
United States District Court for the Northern District of Georgia
Eleventh Circuit Federal Court of Appeals
United States Supreme Court
Numerous other federal trial and appellate courts
Education
Emory University School of Law, J.D.

cum laude
Emory Law Journal, Editor

Duke University, B.A. (Public Policy and Economics)
Professional Memberships
Atlanta Intellectual Property Inn of Court

Founding Committee (2009-2010)
Master (2010-2019)

American Inns of Court – Lamar Inn

Master (2017-2019)
Barrister (1992-1994)

Federal Bar Association – Atlanta Chapter
American Bar Association, Science & Technology Section (past)

Council Member (2001-04)
Co-Editor, Scientific Evidence Review (Monograph Nos. 4-6, 1999-2003)
Editor-in-Chief, The SciTech Lawyer Magazine (2004-07)
Section Liaison, ABA Standing Com. on Publishing Oversight (2001-04)
Vice-Chair and Co-Chair, Standing Com. on Scientific Evidence (2002-04)

Federal Circuit Bar Association

Co-chaired Host Committee for CAFC Visit to Atlanta (2010)
Participant by Invitation, Global Fellows Program (2012-13)

Georgia Bar Association
Atlanta Bar Association
Representative Professional Honors
IAM Patent 1000 – The World's Leading Patent Practitioners (2012-23)
Top 100 List, Georgia Super Lawyers by Thomson Reuters (2017-23)
AV Preeminent Rating, Martindale-Hubbell (1999-2022), Judicial Award (2016-22)
Best Lawyers in America, Litigation – Intellectual Property and Patent (2009-23)
Chambers USA – Ranked Lawyer (2003-22)
Georgia Super Lawyers Honoree (2004-23)
Legal Elite, Georgia Trend Magazine, 2020-22
Rated 10.0/10.0, Avvo
Speaking Engagements
Moderator, "Developments in Claim Construction Law," Intellectual Property SpringPosium, Atlanta Bar Association (April 2014)
Speaker, "Effective Use of Experts in Patent Infringement Cases," The Knowledge Congress Webcast (October 2013)
Moderator, "Implications of Conflicts: Justice, Efficiency and Economy," Federal Circuit Bar Association's 13th Annual Bench and Bar Conference (June 2011)
Moderator, "Effective Use of Experts in IP Litigation," 7th Annual SpringPosium Intellectual Property CLE Conference (April 2011)
Moderator, "Navigating Your Patent Prosecution Team Through the Ethical Conflict and Litigation Challenges on a Lean Budget," Georgia State University Corporate IP Institute (November 2009)
Speaker, "Patent Litigation and Inequitable Conduct Defenses," Strafford CLE Teleconference (September 2009)
Speaker, "Patent Claim Construction: Essential Tools and Information for Proper Claim Construction," Law Seminars International (April 2008)
Panelist, "Intellectual Property Roundtable," State Bar of Georgia IP Section Conference (June 2005)
Moderator, "Genetic Information in the Courts," Science and Technology Section, American Bar Association (October 2003)
Speaker, "The Intersection of Antitrust and Patent Litigation," Intellectual Property Law Section, State Bar of Georgia (2002)
Published Works
"Expert Evidence in the Eleventh Circuit," Co-author, Scientific Evidence Review, Monograph 9, American Bar Association (2013)
"Inside Federal Circuit Due Process Analysis," Law 360 Expert Analysis (March 2011)
"Best Practices for Using Experts When Trial Time is Tight," Partnering Perspectives (2010)
"Q & A with Sutherland's John North," IP Law 360 (August 2009)
"Picking the Wrong Expert Can Doom an IP Case," IP Law 360 (2009)
"Expert Evidence in the Eleventh Circuit," Co-author, Scientific Evidence Review, Monograph 8, American Bar Association (2008)
"SciTech Profiles: John North," The SciTech Lawyer, Science and Technology Section, American Bar Association (2007)
"Exploiting Expertise: Effective Use of Expert Witnesses in Patent Litigation," Co-author, IP Value (2005)
"Expert Evidence in the Eleventh Circuit," Co-author, Scientific Evidence Review, Monograph 6, American Bar Association (2003)
Charitable Work
Georgia Law Center for the Homeless, Board of Directors (2007-14)
Atlanta Girls' School (2011-15)

Board of Directors, Secretary, (2014-15)
Member, Finance Committee (2013-14)
Member, Advancement (2011-13)

Ben Franklin Academy, Committee Member, Board of Overseers (2012-present)