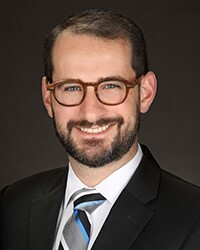 David Ludwig
Partner
Email: dludwig@hkw-law.com
Phone: 770-953-0995
David Ludwig's practice focuses on patent litigation and counseling in a wide variety of industries, ranging from electronics, software, and telecommunications to pharmaceuticals, medical devices, and scientific instruments.  David is adept at all stages of litigation, having served as counsel in several district court trials and Federal Circuit appeals.  He is also licensed to practice before the U.S. Patent and Trademark Office and represents clients in inter partes review proceedings.  David's representative matters include high-stakes patent infringement suits regarding products with annual sales in the hundreds of millions of dollars.
Clients rely on David for his broad-based scientific expertise, deep knowledge of patent law, and sharp analytical skills.  A student of physics and having spent his career working closely with leading experts in various technical fields, David can quickly understand and analyze a wide range of new technologies and associated patent rights.  He is able to efficiently assess case merits and develop potent litigation strategy under tight time constraints, allowing clients to make timely strategic decisions in urgent situations.
While David is first and foremost a litigator, he is also trained in business and holds an M.B.A.  David's education and interest in business decision-making permits him to see beyond the mere legal issues facing clients to the business realities that must often take precedence.  As a result, clients have recognized David as a key asset in counseling on patent-related issues and strategy, leading David to be recognized as one of the world's leading patent practitioners in the IAM1000.
Practice Areas
Patent Litigation
U.S. Patent and Trademark Office Proceedings
Intellectual Property
Education
University of Virginia School of Law, J.D.
Union Graduate College, M.B.A.

Magna cum laude
Beta Gamma Sigma Business Honor Society

Union College, B.S.

Physics and Philosophy Double Major
Magna cum laude
Harold A. Larrabee Prize for Excellence in Philosophy
Admissions
U.S. Patent and Trademark Office
U.S. Court of Appeals for the Federal Circuit
U.S. Court of Appeals for the Second Circuit
U.S. District Court for the District of Connecticut
Connecticut
Admitted to the Georgia Bar
Honors & Awards

Honored as a "Top Patent Professional" in Intellectual Asset Management (IAM) Patent, 1000 – the World's Leading Patent Professionals, 2023
Ones to Watch, Best Lawyers in America, 2023
Rising Star, Super Lawyers, 2022
New Leader in the Law, Connecticut Law Tribune, 2019
Published Works
Susceptibility of Digital Products to Section 271(g) in the Age of Cloud Computing, Artificial Intelligence, Blockchains, and 3D Printing, 4(2) J. ROBOTICS, ARTIFICIAL INTELLIGENCE & LAW 85 (January 11, 2021)
Quest Integrity v. Cokebusters Puts Cloud-Based Medical Diagnostic Patents at Risk of On-Sale Bar, MED. DEVICE & DIAGNOSTIC IND. (February 10, 2020)
Drug-Pricing Bill Threatens Robust Generics Industry, LAW360 (December 13, 2019)
Fed. Circ. Ruling May Affect Eligibility of Life Sciences Patents, LAW360 (November 21, 2019)
Fed. Circ. Muddies Waters on Method-of-Treatment Patents, LAW360 (September 4, 2019)
Method-of-Treatment Patent Eligibility: Step 1 and Done?, LAW360 (February 5, 2019)
Joint Infringement Post-Akamai: Understanding the Impact on Prosecution and Litigation Strategies, THE INTELLECTUAL PROPERTY STRATEGIST (January 2017 and February 2017) (published in two parts)