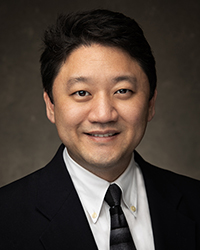 Jerry Liu
Partner
Email: jl@hkw-law.com
Phone: 770-953-0995
Jerry brings over 20 years of experience to the firm's intellectual property and litigation practices. Jerry obtained his Bachelor and M.S. degrees in electrical engineering from Georgia Tech, and is a named inventor on over 20 patents. In addition to his technical background, Jerry's blend of outside counsel and in-house experience provides breadth in patent prosecution (procurement), litigation, patent strategy, and client counseling. Prior to joining Hill, Kertscher & Wharton, Jerry was a partner at Amin, Turocy & Watson, where he prosecuted patents for Fortune 500 companies. As Senior Counsel for ARRIS (now CommScope), and as an associate at Eversheds Sutherland, Jerry engaged in all aspects of litigation and litigation management. Jerry also served as a Director of Patent Development for AT&T, where he managed and developed 1,000+ patent assets for AT&T in multiple technology areas. Additionally, Jerry taught for 17 years as an adjunct professor for Georgia Tech, teaching its Technology Law, Policy, and Management class. He has provided service to business leaders, engineers, and R&D personnel at companies of all stages, from early stage start-ups to large companies, and he has experience in a wide range of technologies, including 5G wireless communications, IoT and IIoT communications, Cellular Vehicle-to-Everything (C-V2X) communications, privacy and cybersecurity technology, Software as a Service (SaaS), electric power delivery and smart grid solutions, biomedical and patient safety engineering, and semi-conductor assembly. Jerry is also bi-lingual, speaking conversational Mandarin Chinese.
Practice Areas
Patent Litigation Support
Patent Preparation and Prosecution
Patent Portfolio Development
High Tech Start-up Development
IP Due Diligence
Honors & Awards
IAM Patent 1000:  The World's Leading Practitioners, 2021
Legal Elite, Georgia Trend Magazine, 2020
Admissions
Georgia, 1999
United States Patent Office, 2000
Education
Emory University School of Law, J.D. (1999, full scholarship, with Honor)
Georgia Tech, M.S. (1996)
Georgia Tech, B.E.E. (1994, with Honor, Co-op Designation)
Speaking Engagements and Publications
Panelist, "Monetization for Operating Companies in a Post AIA & Alice World" (April 14, 2015 for CenterForce IP Strategy Summit).
Moderator, "What Every Lawyer Should Know About IP" (April 19, 2008 for NAPABA 3rd Annual Southeast Regional Conference).
Presentation, "What Engineers Should Know About Patent Law" (Feb 21, 2008 for IEEE S-PAC).
Program Chairperson, "Doing Business in China" (September 28, 2006 for Georgia ICLE).
Moderator, "Expert Witnesses in Patent Litigation" (June 9, 2006 for Georgia ICLE).
Presentation and paper, "Provisional Patent Applications: Advantages and Pitfalls" (April 15, 2005 for Georgia ICLE).
Presentation and paper, "Overview of Patent Ownership Considerations in Joint Technology Development" (January 23, 2004 for Georgia ICLE), also published at 2005 SYRACUSE SCI. & TECH. L. REP. 1.
Book, "Expert Evidence in the Eleventh Circuit," Contributor, Scientific Evidence Review, Monograph 8, American Bar Association (2003)
Presentation and paper, "Intellectual Property Considerations in Early Stage Venture Capital Transactions" (March 6, 2003 for Georgia ICLE).
Paper, "Electronic Commerce: Using Clickwrap Agreements," 15 NO. 12 COMPUTER LAW. 10 (1998).
Charities
Cystic Fibrosis Foundation